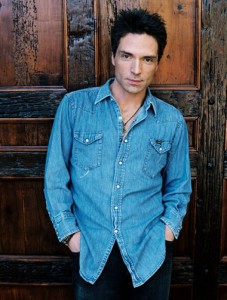 With his debut single "Don't Mean Nothing" and selftitled debut album, Richard Marx kicked off his career as a solo artist in 1987. Over the next three years, he became the first male solo artist to have his first seven singles reach the top five on Billboard's Singles chart, including the #1 hits "Hold On to the Nights", "Satisfied", and the worldwide classic, "Right Here Waiting". He remained a fixture on pop and adult contemporary radio for years, selling over 30 million records, even as he emerged as a top producer working with some of the biggest names in the music business, including *NSYNC, Keith Urban, Barbra Streisand, Josh Groban, Vince Gill, Leann Rimes, 98°, Luther Vandross, Kenny Rogers, Sarah Brightman, and SHeDAISY. More recently, he has written and produced records stars for Natalie Cole, Kenny Loggins, Chris Botti, Michael Bolton, Hugh Jackman, and Sissel.
In February 2004, Richard won the Song of the Year Grammy for "Dance With My Father", which he wrote with Luther Vandross.
More recently was "Better Life," a song written by Richard and Keith Urban that was included in Keith's latest CD, the triple platinum Be Here and was the biggest hit single from the CD, spending six consecutive weeks at number one on Billboard's Country Singles chart.
As Richard readies his next CD, the follow up to 2004's My Own Best Enemy, which contained the hits "When You're Gone" and "Ready to Fly", he's also been back on the road. He concluded a tour of Australia and plans many more tour dates around the globe in 2008.
Event Sponsors

Event Dates
Friday, June 27, 2008 | 8:00 PM
Event Gallery
Related Websites