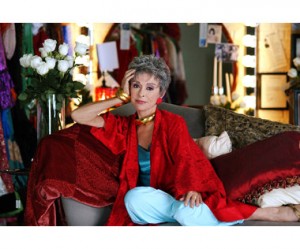 Don't miss Rita Moreno next Thursday, July 15, as she appears on the acclaimed radio show, RadioWest on KUER FM 90.1 at 11:00am to talk about her life, career, and the upcoming show!
Rita Moreno has had a thriving career for the better part of six decades. Moreno, one of the very few (and very first) performers to win an Oscar, an Emmy, a Tony, and a Grammy, was born Rosita Dolores Alverío in Puerto Rico. She moved to New York City in 1937 with her mother. A month before her 14th birthday in 1945, she made her Broadway debut. A few years later she appeared in the films Singin' in the Rain (1952) and The King and I (1956).
Filmmaker Robert Wise, co-director of the movie version of the smash hit Broadway musical West Side Story (1961) cast Moreno as "Anita". A seasoned singer and dancer, Moreno delivered a superb performance for which she won a well-deserved Oscar as Best Supporting Actress.
However, despite her proven talent, roles commensurate with that talent were not forthcoming in the 1960s. It was in two vastly diverging roles — that of a $100 hooker in Mike Nichols' Carnal Knowledge (1971) and that of Milly, the Helper in the children's TV show The Electric Company (1971) that signaled a career renaissance.
During the seventies, Moreno won a 1972 Grammy Award for her contribution to The Electric Company album, following it up three years later with a Tony Award for her role in The Ritz (1976). She then won Emmy Awards for The Muppet Show and The Rockford Files.
She has continued to work steadily on screen and on-stage, solidifying her reputation as a national treasure, a status that was officially ratified with the award of the Presidential Medal of Freedom by President Bush in June 2004.
Event Sponsors
Event Dates
Saturday, July 17, 2010 | 8:00pm
Ticket Prices
Orchestra | $46.00
Reserved | $35.00
Adult General Admission | $21.00
Senior/Child General Admission | $18.00
Event Gallery