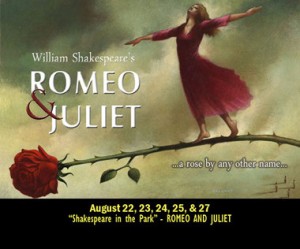 "O Romeo, Romeo! Wherefore art thou Romeo?"
The Davis Arts Council proudly presents our second summer of Shakespeare in the Park. Romeo and Juliet is the story of young star-crossed lovers whose deaths unite their feuding families. First published in 1597, it is one of Shakespeare's most enduring and famous stories.
Romeo and Juliet has inspired many adaptations, including a modern re-telling in Broadway's West Side Story. Its tragic story of prejudice and hatred is a cautionary tale that remains timeless.
"For never was a story more of woe, than this of Juliet and her Romeo." This year's Shakespeare in the Park will be directed by Mark Fossen, director of last year's inaugural Shakespeare in the Park production of A Midsummer Night's Dream. Among Mark's previous directing credits include An Ideal Husband at Pinnacle Acting Company; The Crucible, and The Glass Menagerie at Grand Theater, as well as work in Chicago with Steppenwolf Theatre Company. He is also a participant in the Plan-B/Meat & Potato Director's Lab where he has directed a number of staged readings and teaches at the Theatre Arts Conservatory in Salt Lake City. Mark is also an actor with many roles to his credit with multiple theatre companies across the Wasatch Front as well as San Francisco and Chicago areas.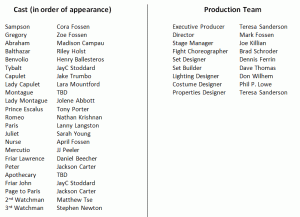 Event Sponsors

Event Dates
Wednesday, August 22, 2012 | 8:00pm
Thursday, August 23, 2012 | 8:00pm
Friday, August 24, 2012 | 8:00pm
Saturday, August 25, 2012 | 8:00pm
Monday, August 27, 2012 | 8:00pm
Ticket Prices
General Adminission – all seats $12.00
Event Gallery