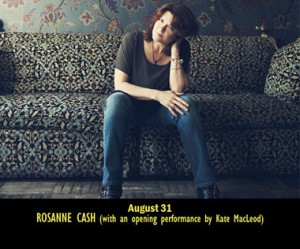 Rosanne Cash is the keeper of an extraordinary family legacy. She was born in Memphis, the eldest child of Johnny Cash. After high school, Cash joined her father's road show, working her way up from laundry duty to backup singer to soloist, before starting her own career in music. As a singer/songwriter, Rosanne has recorded fourteen albums and has had eleven #1 singles. She has navigated her own path between country and rock, roots and pop.
Rosanne Cash's recordings included Right or Wrong, Seven Year Ache, Rhythm and Romance, King's Record Shop, Interiors, The Wheel, 10 Song Demo, Rules of Travel, and Black Cadillac.
Her album, The List was released 2009. The songs are from a list of 100 great American songs that her father gave her when she was 18 years old. The album was nominated for two Grammy awards. The List received the Americana Music Association's "Album of the Year Award" in 2010.
Her latest release is The Essential Rosanne Cash, a compilation that spans 30 years with songs personally chosen by Rosanne.
Cash has also made her mark as a writer. She published a collection of short stories and a children's book. Her essays and fiction have appeared in various collections and publications. Her most recent book is Composed: A Memoir, published in 2010.
Over the course of her career, Cash has articulated heartbreaking realities, but in the family tradition, she always emerges with a firm belief in the limitless possibilities of personal redemption.
Rosanne lives in New York City with her husband, producer and guitarist John Leventhal. She is the mother of 5 children.
Event Sponsors

Event Dates
Friday, August 31, 2012 | 8:00pm
Ticket Prices
Orchestra | $49.00
Reserved | $39.00
General Admission | $26.00
Event Gallery