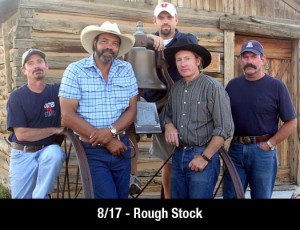 With a wide range of individual talents, these Utah musicians have a passion for the country lifestyle and music that makes your heart sing. Rough Stock is the 2013 Hill Air Force Base Appreciation Night.
On lead guitar and vocals is Harry Sherman, who founded the band and spends his free time riding the range and listening to classic country hits. Rocking the pedal steel guitar is Greg Forbush, raised on a cattle ranch, who plays fiddle, acoustic, and electric guitar. On keyboards is Terry Morris from Hill Air Force Base, who has over 40 years of experience as a pianist. Drummer Trent Porter has spent years studying percussion. Rounding out the lineup is Jim Schaub on bass and vocals, who has been known to thrown a touch of Jazz into the band's country sound.
Thanks to the generosity of our sponsors, anyone with a Hill Air Force Base I.D. receives free general admission tickets to this special night featuring one of their own.
Event Sponsors

Event Dates
Saturday, August 17, 2013 | 8:00pm
Ticket Prices
Reserved | $10.00
General Admission | $6.00
Event Gallery