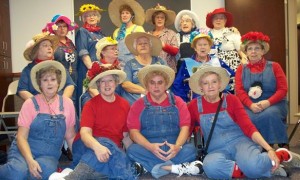 Featured artists on tonight's concert will be The Dementia Dollies, a renowned "junkyard band" from Farr West, Utah, and the local big-band combo Timeless, under direction of guitarist Larry Banks. Additional performers are: Vocalists Renetta West, soprano and Ken Wilkes, baritone; a trumpet trio consisting of Gary Thornley, Byron Montgomery and Rod Rippon.
The Dementia Dollies have been performing together since 2007, including appearances at senior citizen centers, retirement homes and private parties from Brigham City to Salt Lake City. Most of their instruments are straight from the junkyard, except for the bed pan, which was purchased with cold, hard cash. The Dollies offer 30 minutes of fun music, belly laughs and really corny jokes.
Timeless is a combo that performs big-band tunes from the 1930s, '40s and '50s, plus familiar tunes from other decades as well.
Now an educator and executive with Everest College (formerly Mountain West College), band leader Larry Banks' earliest claim to musical fame was when he was 16 and was invited to play his guitar for two of the legendary Eugene Jelesnik's globe-trotting USO tours in 1968 and 1969. Banks' first tour was with the "Utah Varieties" troupe to remote bases in Alaska, followed by the "Utah Talent Showcase" tour in the fall of 1969 to Korea.
Event Sponsors

Event Dates
Sunday, August 23, 2009 | 7:00 PM