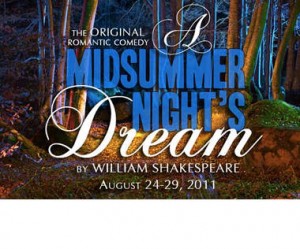 The ORIGINAL romantic comedy! You don't have to go to Cedar City to experience history's greatest playwright as we bring William Shakespeare's A MIDSUMMER NIGHT'S DREAM to Davis County in our newest program, DAC's own Shakespeare in the Park. Arguably the Bard's best-loved play, this year's theatrical event will take on a decidedly magical twist.
A MIDSUMMER NIGHT'S DREAM includes the adventures of four young lovers and a group of amateur actors, who are manipulated by the mischievous faeries that inhabit the forest just outside of Athens. You'll be treated to an evening of romance, mistaken identities, mystery, faeries, a man with the head of a donkey, a play within a play and lots of laughs! What better place to enjoy Shakespeare than in the lovely midsummer twilight on the Kenley stage in the beautiful Layton Commons Park. We want YOU to fall in love… with Shakespeare.
This year's DAC theatrical production is directed by Mark Fossen. Among Mark's previous directing credits include An Ideal Husband at Pinnacle Acting Company, The Glass Menagerie at Grand Theater, as well as work in Chicago with Steppenwolf Theatre Company. He is also a participant in the Plan-B/Meat & Potato Director's Lab where he has directed a number of staged readings and teaches at the Theatre Arts Conservatory in Salt Lake City.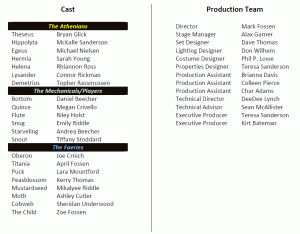 Event Dates
Wednesday, August 24, 2011 | 8:00pm
Thursday, August 25, 2011 | 8:00pm
Friday, August 26, 2011 | 8:00pm
Saturday, August 27, 2011 | 8:00pm
Monday, August 29, 2011 | 8:00pm
Ticket Prices
Open Seating – Adults | $11.00
Open Seating – Seniors & Children | $7.00
Event Gallery