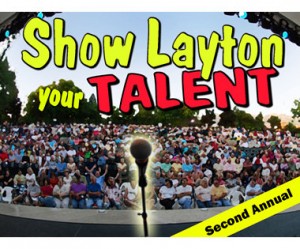 The best talent from all over the Wasatch Front competes for your vote on June 21! The only caveat: they have to be 18 years old or younger. Trust us, the talent in our kids is HUGE and we're ready to showcase it. Initial auditions will be held on May 10, where a panel of professional judges will choose the top artists to compete at the finals on June 21.
Who will win the grand prize? The distinguished judges will deliberate, but this year YOU will have the chance to crown an audience favorite as well. In all, $3,000 will be awarded to the stars of the future. Keep close watch because you need to vote for your favorite to win the AUDIENCE FAVORITE cash award.
3rd Place receives: $100
2nd Place receives: $250
1st Place receives: $500
Audience Favorite: $500
When the Davis Arts Council celebrated our 30th anniversary in 2009, we thought there was no better way to start the season than by showcasing the best local talent we could find. We had our inaugural Show Layton Your Talent event. Over 80 acts auditioned for the chance to perform on the Kenley Stage and vie for the cash prizes and the glory of audience love. The winner, Jane Bruce of Ogden, used her winnings as she set off for college at the University of Michigan where she is enjoying success in their acclaimed musical theater department. Season two crowned the crowd-pleasing Jesse Sykes of Layton as grand champion when he danced his way into our hearts. Dancers also stole the spotlight in Show Layton Your Talent III, as the incredible skill of Jon Stevens and Ella Horan stole the judges' hearts as well as winning the audience favorite grand prize. Season IV we shook things up with "The Broadway Edition" and featured one incredible song from the Great White Way after another. The audience gave Brooklyn Pulver first place for belting out the showstopper, "Don't Rain On My Parade."
Keep watch for more information on auditions. Know a talented kid that can sing, dance, act, juggle, or play an instrument? We're looking for artists of all disciplines and all shapes and sizes; the only requirement is that have to be under 18 years old. Singles, duets, groups (6 artists or less), all are welcome to audition on May 10.
Click here to download the audition application.
Event Sponsors

Event Dates
Saturday, June 21, 2014 | 8:00pm
Ticket Prices
Orchestra | $15.00
Reserved | $10.00
General Admission | $5.00