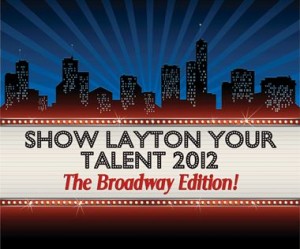 When the lights hit the stage at the first Show Layton Your Talent competition, a tradition was born at the Davis Arts Council's Summer Nights with the Stars season. What better way to kick-off the season than to showcase the vast array of talent in our community? The beautiful Kenley amphitheater has played host to a variety of original performances—including vocalists, dancers, instrumentalists, songwriters, rappers, actors, and even a yo-yo wiz.
This year, we are mixing it up and raising the stakes for our local superstars by narrowing the focus to Broadway songs. We present to you: Show Layton Your Talent IV: Broadway Edition.
Who will win the grand prize? YOU will have the responsibility to crown the 1st, 2nd and 3rd place winners. This year, the prizes will be awarded by audience vote. In all, nearly $2,000 in cash will be awarded to the possible Broadway stars of the future. Keep a close watch on your favorite because they need your vote to win!
3rd Place receives: $250
2nd Place receives: $500
1st Place receives: $1,000
For audition information click here
Event Sponsors

Event Dates
Friday, June 22, 2012 | 8:00pm
Ticket Prices
Orchestra | $15.00
Reserved | $10.00
General Admission | $7.00
Event Gallery