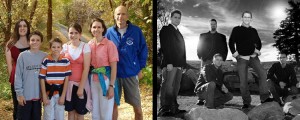 Featured artists: The Graff Family and Vocalocity.
The Graff Family of Layton consists of Mel and Kimberly Graff and their children, Catherine, Anne, Douglas and Benjamin. Mel enjoys classical guitar and composing and arranging music. Kimberly is a vocalist who especially loves directing choirs.
Catherine, 18, is a Weber State University student and an accomplished pianist. Anne, 15, began singing at age three and has sung internationally with a children's choir. Douglas, 13, is an enthusiastic tenor who also studies piano and trumpet. Benjamin, who began singing at five months (by matching pitches sung to him) also enjoys piano.
Vocalocity is a seasoned five-man vocal band comprised of Jason Tesch, Ryan Brierley, Brandon McKnight, James Case and Jake Tesch. They've been performing as a group since 2005. When they performed on the Sunday Night Concert Series two years ago, they were known as Tongue-Tied. Banding together to produce a compelling a cappella performances for audiences of all ages, Vocalocity took home the coveted Audience Favorite Award at the Harmony Sweepstakes, adding to their previous first-place and audience favorite awards.
Event Sponsors

Event Dates
Sunday, June 21, 2009 | 7:00 PM