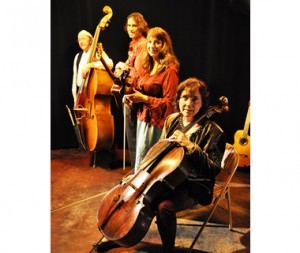 The Celtic Jazz ensemble Synkofa is a four-piece instrumental band of accomplished performers who play roots music with a gypsy flair, carrying listeners to the misty Irish Highlands, the hot jazz clubs of 1950's Paris, to the porch steps of Appalachia and beyond.
The group includes violinist/arranger Theresa Ellis, composer/guitarist Eric McKenna, bass player Steve Wesson, and cellist Elaine Witte. They have performed for the Utah Arts Festival, OC Tanner Theatre, Zion Park Summer Concert Series, NBA All-Star Weekend, and numerous civic events.
The name Synkofa is a word play on the West African concept of "Sankofa" – reaching back to gather the best of what our past has taught us in order to reach our highest potential. The ensemble seeks to transport listeners to distant times and places only to bring them back again to the present with eyes and ears wide open.
Event Sponsors

Event Dates
Sunday, June 23, 2013 | 7:00pm