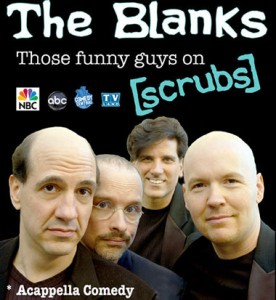 (aka Ted's Band from the hit TV show [scrubs])
You've seen "Ted's Band" on the wildly popular ABC hit series Scrubs – and now they're performing their special blend of a cappella humor in Layton! "The Blanks", a quartet of friends who like to sing a cappella music. For a few years now they have been appearing on the television show Scrubs as "Ted's Band" where, as luck would have it, they have to pretend to be a quartet of friends who like to sing a cappella music. They have put out a CD, and do live shows, where you can see them singing TV and movie themes such as "Charles in Charge" and the "Six Million Dollar Man." They also do songs with talking toys – that's right, four grown men who still play with dolls action figures.
The Blanks/Ted's Band/The Quartet of Friends are:
• Sam Lloyd was born and breaded in the faint New England town of Weston, Vermont. His parents were creatures of the theatre and he turned into one himself. He grew some chops at the Weston Playhouse and used his father's Super 8 camera to make home groovies. He then offended Syracuse University with future Blanks Paul and George.
• Philip McNiven was braised in Philadelphia, the son of an Englishman and a French Impressionist, which for some reason makes him Canadian. Eventually he moved to Toronto, which is like New York, only cleaner and less expensive, eh? There he eked out a living as a tennis pro, hard to do when the courts are ice-crusted nine months of the year.
• George Miserlis originally hails and snows from Lowell, Massachusetts, the home of Bette Davis, Olympia Dukakis, and the Chocolate Chip Cookie. He had the pleasure of performing with the original cast of Forever Plaid at the Canon Theatre in Beverly Hills. And now they can say they've had the pleasure of performing with an original cast member of The Blanks.
• Paul F. Perry calls Stoneham, Massachusetts his home about every other week. He does all the vocal as well as dinner arrangements for The Blanks. Paul is one of only two people on earth who are members of both The Blanks and the bicoastal Beatles cover band, The Butties. This requires lots of airline travel, during which Paul has seen every Tim Allen film ever made.
Event Sponsors
Event Dates
Saturday, August 8, 2009 | 8:00 pm
Event Gallery
Related Websites