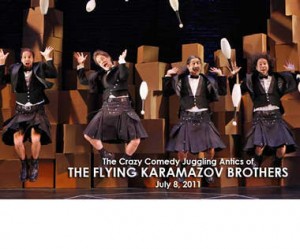 World-renowned juggling and comedy troupe, The Flying Karamazov Brothers have been performing since 1973 where they got their start as street artists in Santa Cruz, California. They quickly developed a following and have gone on to perform all over the world and been featured on hit television shows such as Seinfeld, The Tonight Show, and Rachel Ray.
Continually honing their skills in comedy, theatre, music and, of course, juggling, it has been their intention to blend the worlds of performance art, improvisation, word play, harmony, emotion, and above all, virtuosity into a unique form of theatre and entertainment. And they mean to ENTERTAIN! Comedy is the bread-and-butter for The Flying Karamazov Brothers and children of 2 or 92 will laugh at the same moment for very different reasons.
Each of the "Brothers" brings his area of expertise to the enterprise. Mark Ettinger (Alexei) is the resident musician, composer, and conductor. Rod Kimball (Pavel) is a master juggler. Paul Magid (Dmitri) is writer, director, and founder. Nick Flint (Maximov) is the media savant. Stephen Bent (Zossima) is exceptionally tall.
After nearly 40 years of performing and responding to audience enjoyment, the Flying Karamazov Brothers have developed a show that pushes the limits of what people can imagine. The Flying Karamazov Brothers join us at the Kenley after completing their successful off-Broadway run in New York City.
Event Dates
Friday, July 8, 2011 | 8:00pm
Ticket Prices
Reserved | $21.00
General Admission | $14.00
Event Gallery