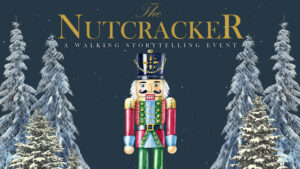 When we chose The Nutcracker as the story for our most popular free event- Active Pages, we had visions of sugar plums dancing in our heads. Little did we know, the original tale is a bit more grim! We were fascinated by the history we uncovered about The Nutcracker- did you know there's a connection to The Count of Monte Cristo?! Read on and let us fill you in on the many adaptations of this Christmas favorite. 
The decorative nutcracker soldier dolls we know today originated in 17th Century Germany, and so had already been around for 200 years when ETA Hoffman wrote The Nutcracker and the Mouse King in 1816. Hoffman's story is a dark tale that works to kindle children's imaginations in a world that often smothers them. Hoffman believed fervently that losing your imagination leads to a dull life.
Almost 30 years later, Alexandre Dumas, who also wrote The Count of Monte Cristo, translated and adapted The Nutcracker, and made the story much more lighthearted and whimsical. This whimsical version inspired the ballet, which premiered in Russia 1892, but was considered a failure.
Tchaikovsky's music, however, was widely praised, and for the next 50 years, new versions of the ballet premiered all over Europe, until Utah-born choreographer Willam Christensen premiered his adaptation at the San Francisco Ballet in 1944. This production was a huge success, and has become a holiday tradition in the United States. Christensen's original production continues today at Ballet West in Salt Lake City, where it has been performed every year since Christensen founded the company in 1963.
People have been sharing the story of the Nutcracker for more than 200 years, and when beloved stories and characters are passed on from one generation to the next, they take on a life of their own, and details get tweaked along the way. You might notice differences between the original fairytale, the beloved ballet, our storytelling event, and the many other versions.
For example, in the ballet, the little girl is named Clara; In the original story, she is called Marie, who has a doll named Clara. You'll find no mention of the Sugar Plum Fairy in Hoffman's fairytale, or in Dumas' version. She was created so that the prima ballerina had a starring role in the ballet, since the leading lady, Clara, is often played by a child! In fact, in versions of the ballet where Clara is danced by an adult, the Sugar Plum Fairy is often removed from the story altogether, and Clara and the Nutcracker Prince dance to that music!
Come see how our staff member Emilio adapted the story for our audiences! Performances are November 29th, 30th and 1st (2022). The standby line is open from 6-8pm at 445 N Wasatch Drive.