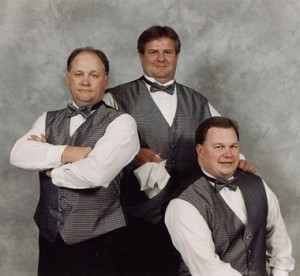 By day they are Terry Behunin, Marketing Director of Intermountain Healthcare; Brent Allen, Manager of the LDS Distrubution Center; and David Allen, Engineering Manager at Autoliv. By night they turn into larger than life super singers: "The Other Three Tenors" – a.k.a. Luciano Provolone, Placebo Dominos, and Jose Carest-her.
Their particular brand of mellow three part vocals paired with offthe- wall humor has made them a hit with a wide variety of audiences. With Kathy Skidmore as arranger and accompanist, they re-write their own versions of familiar songs. Who can forget such hits as: "I Sold My Geo and Moved to Rio" (O Sole Mio) and "We 3 Tenors Disoriented Are" (We 3 Kings).
From time to time they explore political humor: "To All the Girls I've Loved Before" is dedicated to the Clinton White House, and "The Farmer On the Dole" decries federal subsidizing. For a change of pace, the Allen Brothers, will explore their rural roots as they don hats with ear flaps and quilted vests and sing a tale of love gone awry and a shotgun wedding-Musket Love (a.k.a. Muscrat Love) with the magic fingers of Dave on the guitar.
The Other Three Tenors will bring smiles of delight to young and old alike.
Event Sponsors

Event Dates
Sunday, August 17, 2008 | 7:00 PM