November 13, 2015
The Spirit of America is a performance by Beautiful Dreamer Ensemble Inspired by Veterans Day and Thanksgiving.
The Beautiful Dreamer Ensemble will make their Davis Arts Chamber Series debut.
Date: November 13th
Time: 7:30PM
Place: Alpine Church off Hill Field Road in Layton (254 W. 2675 N.  Layton, UT.)
Download the Chamber Season Brochure: 2015-16_ChamberSeries_eBrochure
Bio: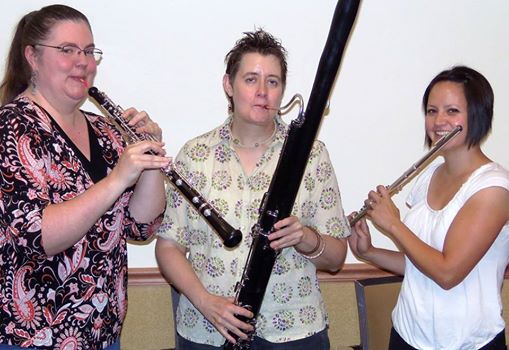 Beautiful Dreamer Trio plays wonderfully delightful music of yesteryear: Popular American Parlor Music. Inspired by the legacy of Stephen Foster, the "Father of American Music" (and taking their name from one of his last compositions), Beautiful Dreamer performs a wide variety of selections that family and friends would gather together in the best room of the home – the parlor – to enjoy listening and playing: folk songs and dances from ancestral homelands, American folk songs, hymns and spirituals, music from the vaudeville and theater stage, the concert hall and the ballroom, patriotic tunes and marches, and seasonal favorites.
Beautiful Dreamer Trio members are:
Tia Jaynes, Flute and Piccolo, Sandy, Utah
Robin Vorkink, Oboe and English Horn, Magna, Utah
Cheryl Ann Blackley, Bassoon, Woods Cross, Utah
These three ladies are all active freelance musicians performing throughout the Wasatch front (and back), including Cache Valley, maintain private teaching studios, and are also involved in higher education.