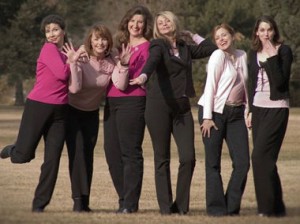 Getting together for a Davis Arts Council Christmas show in 2004 was just a one time gig – so thought the members of Three Plus Three, which was then called Christmas Oasis. After audience members who saw the show urged them to stay together and do more, the group of six women and their accompanist then decided to continue singing together and adding new music to their repertoire. They all loved the music of the Forties, Fifties and Sixties, and decided to put together a show focusing on songs of those eras. Since that time they have been in high demand, performing at many corporate parties, church functions and private events for various clubs and organizations.
The group has performed at Kenley Amphitheater for the Free Sunday Night Concert Series in 2005 and 2007, the Summer Nights With the Stars season in 2006, and are pleased to return for another Free Sunday Night Concert in 2008. They love the Kenley Amphitheater and the wonderful audiences here in Layton.
The group consists of members from Bountiful, Layton, Ogden and North Ogden which include: Charlene Adams, Diana Dunkley, Charlene Nelson, Jolene Rausch, Teresa Sanderson, and Holly Slack. MaryAnn Rees accompanies them on the piano, Barry Sanderson is on drums and Doug Pierce is on bass and guitar.
Event Sponsors

Event Dates
Sunday, August 31, 2008 | 7:00 PM