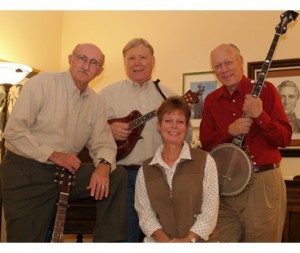 TimeRiver is a neo-folk band that uses acoustic music to re-energize traditional folk songs and stories for today's audiences. The group sings timeless ballads like "Danny Boy," "Put Your Hand in the Hand," and "Down to the River to Pray" accompanied by guitar, mandolin, fiddle, banjo, and bass.
The group consists of Steve Van Dyke (guitar, mandolin) and Lynn Paul Ballard, who have sung together for over 30 years. Steve's brother Don Hansen keeps the group sparkling with his unique guitar, mandolin, and banjo skills. Derek Meeks adds violin and electric bass, providing a smooth and rhythmic foundation. Juliann Bradshaw's lyrical alto voice rounds out the group.
The four talented musicians have performed at Brigham Young Park, First Night, county fairs and numerous church and civic events.
Event Sponsors

Event Dates
Sunday, June 9, 2013 | 7:00pm