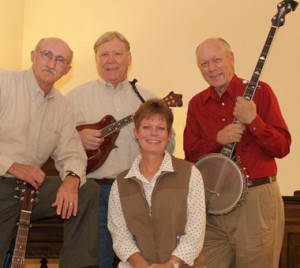 TIMERIVER is a neo-folk band that uses acoustic music to reenergize traditional folk songs and stories for modern family audiences. Their songs echo through various time periods ranging from early American folk to 1960s soft-rock numbers and original pieces.
The group consists of Juliann Bradshaw, Steve Van Dyke, Lynn Ballard, Don Hansen and Derek Meeks. Juliann Bradshaw has written music and sung for audiences in Northern Utah for over two decades. Her strong alto voice lends a firm anchor to the group's vocals. She has performed at major venues, including concert halls in Salt Lake, and enjoys popular music from the near and distant past. Her soft solos are a vital emotional element of TimeRiver's music.
Steve Van Dyke has been singing with Lynn Paul Ballard for nearly forty years, off and on. Their roots are in the folk music era of the late fifties and sixties, but blend over into later eras. Lynn plays guitar and provides a rich baritone/second tenor voice to the quintet, while Steve sings lead and tenor. Steve's banjo work is interspersed with rhythm guitar and more than a few jokes to fill the time between instrument changes.
Don Hansen is Steve's brother, and the main instrumentalist, playing guitar, mandolin, and banjo, while Derek Meeks is an experienced bass player whose bass is a platform on which the entire sound of TimeRiver stands, and he has the most dangerous smile of the five of us.
We look forward to rendezvousing with everyone soon, at TIMERIVER.
Event Sponsors

Event Dates
Sunday, July 10, 2011 | 7:00pm
Ticket Prices
Free Sunday Night Concert Series | $0.00