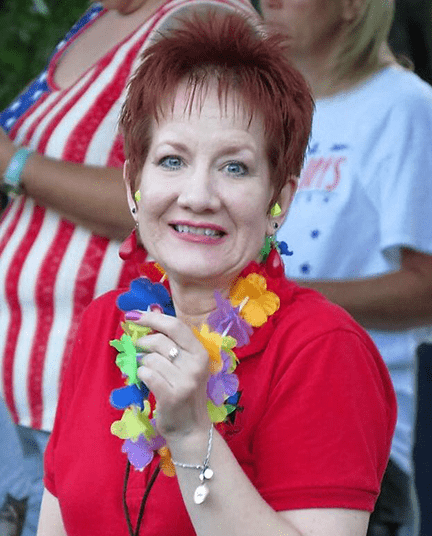 Tauna is one of our spunkiest volunteers. If you have been to one of our shows, chances are you have seen Tauna dancing along to the music while she helps you find your seat. She is always friendly, outgoing, and a light in our venue!
Tauna, thank you for all you do!
1. What is your favorite color?
Bright fuchsia pink
2. Do you have a hobby?
I used to sing in a country western band for a living/hobby, starting in 1983, and retiring about 5 years ago. Now I just sing karaoke or in the car.  Or to my favorite band in the DAC summer concert series. he-he :)
3. If you had $1,000 to spend on yourself, what would you buy?
Today I would buy myself a new wardrobe of trendy clothes.  Or the liposuction to fit into the wardrobe I already have. he-he​ :)
4. What is your favorite donut?
I like glazed donuts with raspberry filling!!​ ​Which is why I don't fit in the wardrobe I currently have!​ he-he :)
5. If you could turn any mundane activity into an Olympic sport, in what event could you win the gold medal?
Organizing or meeting new friends
6. Where did you grow up?
I grew up in Sunset, which is just north of Clearfield or south of Roy.
7. If you were a superhero, what powers would you have? 
I would like to have mind reading as my super power! Or shape shifting, to fit into the wardrobe I currently have! he-he ​:)
8. What is one of your biggest pet peeves? 
People who are late without telling me they're going to be is my biggest pet peeve!
9. What is a word/phrase you use too often?
​"he-he" :) Is THAT a phrase?  Ok, then "Indeed" or "no doubt" would be the most overused word or phrase I use.
10. What is your favorite Davis Arts Council memory?
My favorite DAC memory is when I first started with this wonderful group as a recruiter and had a little tent on the side of the stage where the big tree used to be. I would talk to total strangers to bring them into the fold of DAC volunteering.  I loved that job and met some wonderful people, some of whom became friends!  I even recruited Ted and Laura (our current house managers)! Ya, I never get tired of saying that! he-he :)