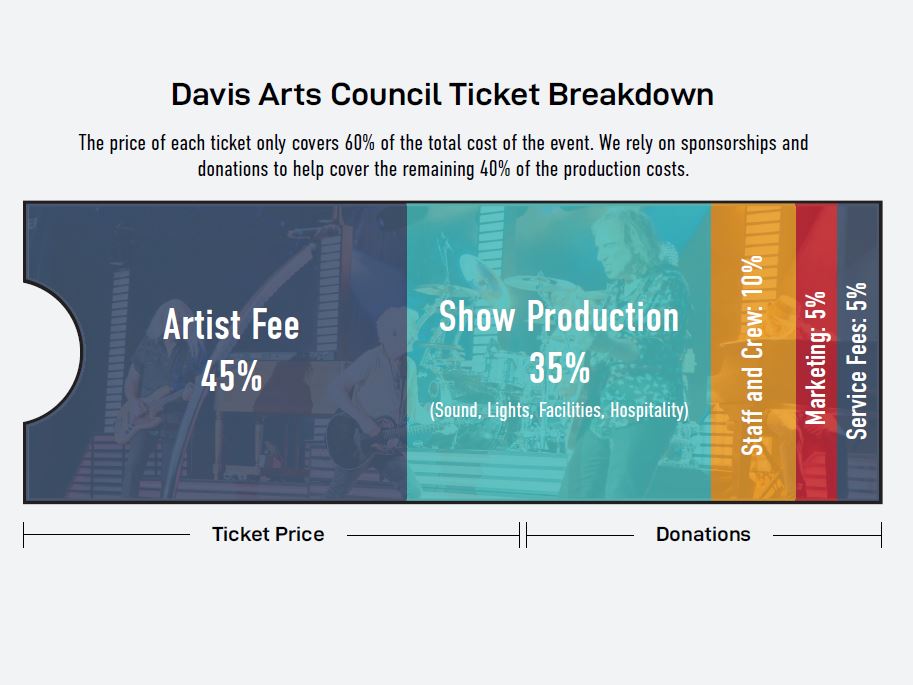 A question we get asked all the time is, "I paid for a ticket so why should I donate?" As a non-profit organization, our mission is to strengthen and enrich the community through the power of the arts. In order to carry out that mission, we need the generous support of our donors.
Ticket prices don't cover 100% of production costs
Our goal with our Summer Nights with the Stars program is to provide high-quality concerts at the lowest price possible. Our venue is much smaller than most in the area, so slightly higher ticket prices, compared to bigger venues, might occur. But we strive to price our tickets as low as possible to ensure affordability for everyone. In fact, ticket prices only make up 60% of the total cost of the production. We rely on donors and sponsors to fulfill the other 40%. Check out our infographic above to see what goes into the price of tickets.
Eight out of ten of our programs are provided absolutely free
Most of our patrons are aware of our two ticketed programs, Summer Nights with the Stars and DAC the Halls. But did you know that we have eight other programs that are all free to attend? Our wide variety of arts programming ensures there is an event for everyone, no matter their socioeconomic status or art preference.
We provide free music programming all year long. First, the Free Sunday Night Concert Series runs every Sunday night from June through August at The Kenley Amphitheater. This program features local musicians and is the longest-running free, outdoor concert series in the state of Utah.
Another free music program is our Chamber Music Series. This program features some of Utah's most talented classical musicians. This one-hour event occurs the first Friday of every month, October through May. This program is perfect for families, date night, and school performance requirements.
We present two theater programs each year. First, Plan B FEST (formerly Active Stages) features professional theater written and performed for children throughout Davis County. Each year, these plays deliver an important message to children ages 5-12. Past topics have included body image, grief, and anxiety.
Senior Stages is our other annual theater program. Traditionally, this program has featured one-act plays written by, for, and about senior citizens. These plays deal with important issues with plenty of humor. Past topics have included the death of friends and spouses, dating, and remarriages. 
Recently, Senior Stages has taken a new approach with music from an era important to the senior citizens of today. Our favorite girl group, Sugartime, has been celebrating the '40s -'70s with songs like Boogie Woogie Bugle Boy and Bei Mir Bist Du Schoen. This program also takes senior citizens on a walk down memory lane by leading a discussion on what life was like during the time these songs were popular.
We have two film programs each year. Our newest program is the Insomnia Film Challenge. This program is a 48-hour film competition where groups of filmmakers are given just two days to write, film, edit, and submit their short films. To make it even more challenging, each group is given one prop and one line of dialogue that must be included in their films. At the end of the 48-hours, the films are screen at Kaysville Theater for their friends, family, and the community.
The Free Friday Film Series is our other film program. This series occurs every Friday, June through August at The Kenley Amphitheater. We strive to provide a variety of titles, screening some classics as well as new favorites. In addition to the movies, preceding each film is a special activity in theme with the movie for the night. Past activities have included pictures with Disney princesses, face painting, and a scavenger hunt. 
One of our most popular free programs is Active Pages. This program brings classic literature to life with storytellers dressed in period clothing acting as narrators of the story. Patrons walk through the park from station to station, hearing bits of the story unfold as they move down the path. Past stories include The Legend of Sleepy Hollow and Mary Shelley's Frankenstein.
We have two visual art galleries. Both called the Snow Horse Art Gallery, you can find the first at Davis Conference Center and the other at Intermountain Layton Hospital. Our galleries always feature local artists, some showcasing their work for the very first time. The Davis Conference Center location is home to our Student Art Exhibit. Each year, high school age art students submit their work to be hung in our gallery. These submissions are judged and over $2,000 in scholarship money is awarded each year to the winners. The Davis Arts Council also purchases pieces from these students to hang in our permanent gallery located in our office. 
Become a champion in your community
We are so proud of the programming we offer and strive to make it the highest-quality arts programming in the county. We rely heavily on donations from our generous supporters to make it all happen. Please consider making a donation to the Davis Arts Council to become a champion for the arts in your community.