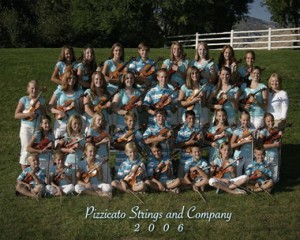 Featuring Pizzicato Strings & Company
Pizzicato Strings & Company is a youth violin group from Ogden with ages ranging from 6-18. Two shows are presented each year with approximately thirty pieces being performed by memory. In addition to the weekly performance class, the youth attend private lessons where an extensive classical repertoire is learned. They have been featured artists at the Children's Arts Festival in Taiwan, China, Festival of States in Washington, D.C. & Magic Music Days at Disneyland. Local performances include pre-shows for the Utah Symphony, Ballet West & Michael Ballam.
They have been selected to perform at the Utah Arts Festival for eight consecutive years. The group has recorded three CD's.
Other performers include: Gabriella Roderer, flutist; Jessica Roderer and Jade Conlee, pianists; and Brady Stratton, Casey Stratton, Camille Jasperson, and Page Brown; vocalists.
Event Sponsors

Event Dates
Sunday, June 8, 2008 | 7:00 PM