co-presented in partnership with StageRight Theatre Company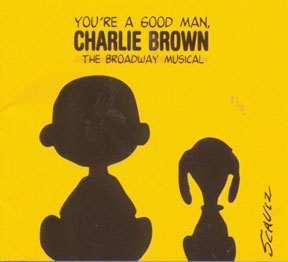 "You're a Good Man, Charlie Brown" is an average day in the life of Charlie Brown of Peanuts fame. A classic musical comedy with music and lyrics by Clark Gesner and a book by John Gordon, based on characters created by Charles Schulz.
Click here for audition and cast information.
Event Sponsors

Event Dates
Monday, June 9, 2008 | 8:00 PM
Tuesday, June 10, 2008 | 8:00 PM
Wednesday, June 11, 2008 | 8:00 PM
Thursday, June 12, 2008 | 8:00 PM
Friday, June 13, 2008 | 8:00 PM
Saturday, June 14, 2008 | 8:00 PM
Event Gallery