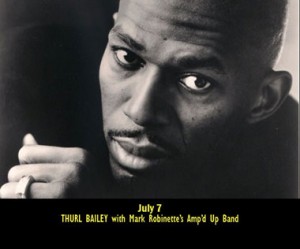 With skill and dedication, Thurl Bailey strives to be at the top of his game. While in high school—beyond the basketball court—he sang in two choirs, played three instruments, and was a member of the Drama Club.
Thurl attended North Carolina State and was a leader in the Wolfpack's miracle run to the 1983 NCAA Championship under head coach Jim Valvano. While in college he led his team in both scoring and rebounding. The Utah Jazz selected him as the 7th pick of the 1983 NBA Draft. Jazz management reported that he was selected for the quality of his character, as well as the quality of his game. This was the beginning of 16 years of professional basketball.
After basketball, Thurl embraced the opportunity expand his other talents. He is currently a public speaker and broadcast analyst for local sports. In recent years, Thurl's passion and dedication has been focused on music. He has recorded three albums including Faith In Your Heart, The Gift of Christmas, and I'm Not the Same.
On and off the court, Thurl has been recognized for his leadership and community involvement. His service has resulted in awards including the NBA's prestigious "Kennedy Community Award" and the Great Salt Lake Council of the Boy Scouts of America's "American Champion Award."
Does Thurl ever marvel at where life has taken him? "Every day," he says. Thurl Bailey will be performing his unique and uplifting fusion of R&B and soul with the talented Mark Robinette and his Amp'd Up Band.
Event Dates
Saturday, July 7, 2012 | 8:00pm
Ticket Prices
Reserved | $18.00
General Admission | $10.00
Event Gallery