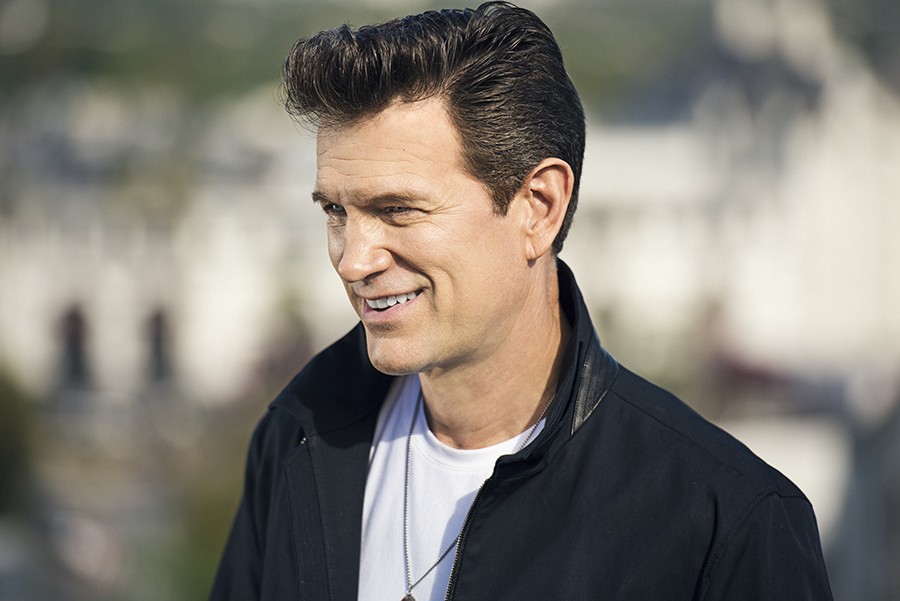 Special Engagement: We love a good crooner, and Chris Isaak is one of the best! In First Comes The Night — Isaak's stunning first album of new material in six years – the gifted singer-songwriter and bandleader is bringing us a bumper crop of strong and intriguing songs.
This concert is a "Special Engagement" for the 2017 season and is offered as an add-on to season subscriptions. 
Tuesday, July 25, 2017
Gates open at 7PM
Show begins promptly at 8PM
Tickets will go on sale to the general public on Tuesday, May 2 at 10AM.
Fastest/easiest method is available 24 hours a day, 7 days a week, by getting your tickets at tickets.davisarts.org
Tickets also available by phone at (801)546-8575
To purchase tickets at our box office, note our new business hours of 9AM to 2PM (Mountain Time)
Current Season Ticket Subscribers will begin renewals starting Monday, April 3, 2017, at 10AM (subscribers receive a discount on each additional ticket they add on to their 10-show season and may buy up to as many subscriptions as they currently hold). Interested in becoming a season ticket subscriber? Get on our subscription waiting list by calling our box office at (801)546-8575 (this waiting list is for SEASON TICKET SUBSCRIPTIONS only; there is not a waiting list for Chris Isaak tickets.

VIP Packages
Each Chris Isaak VIP Package includes a meet & greet with Chris Isaak and a premium seat in the first 10 rows!
For more information or to purchase VIP package, click here.
PRICING
The Davis Arts Council can only guarantee tickets purchased directly through our box office. We cannot confirm any tickets purchased by any other method.
Orchestra: $79 (first three rows)
Reserved: $69 (nine rows of permanent seats)
General Admission: $49 (grass seating, bring your own lawn chair, first come-first served)
Visit our FAQ page for information regarding The Kenley Amphitheater and our Summer Nights with the Stars season
About Chris Isaak
For Chris Isaak, first comes the song.
And for First Comes The Night — Isaak's stunning first album of new material in six years — this gifted singer-songwriter and bandleader is bringing us a bumper crop of strong and intriguing songs from which to choose. "There was no mission for this album other than to follow the songs," Chris Isaak explains, and in terms of songwriting, the floodgates really opened this time. "My last release was Beyond The Sun — my tribute to Sun Records with a lot of covers — so this time around I had a lot of new material that I was thrilled to record. My manager always tells me, `We need more songs.' This time, even she realized she's creating a songwriting monster, and had to beg me to stop."
First Comes The Night fittingly represents a number of firsts for Chris Isaak, who recently signed on to become a judge for the first time on The X Factor Australia. Of his new television gig Down Under, Isaak explains, "I love Australia, and if you're going to look for stars, I can't think of a more beautiful place on Earth to start looking." As for First Comes The Night, this is the first time that Isaak has written and recorded so much in Nashville, Tennessee, a change in location he explored partly upon the suggestion of his friend Stevie Nicks. "Somehow even I had some misconceptions about Nashville," confesses Isaak. "You'd think a music guy who's been in the business as long as I have would know better. I'm a huge fan of country music since I grew up listening to Hank Williams, Ernest Tubb and Buck Owens, and I know my country history well, but even I somehow forgot Nashville is — and always been — about more than just country."
Indeed, in Nashville, Isaak found himself working with a number of new producers who helped show him how exciting a place to make music Nashville could be. "I worked on the album in Los Angeles along with Mark Needham who's done great work with me over the years. Then I took some time to write and record in Nashville. I had the misconception that a producer in Nashville would be bringing in banjos and asking me what songs I had that were pure country. The truth is that great producers are great producers, and Nashville is so full of brilliantly talented people. I worked with Paul Worley who is a great producer, period, and he can go anywhere in the world and make great records like he's done with the Dixie Chicks or Lady Antebellum.  The same was true when I worked with Dave Cobb who's been doing amazing work lately with Jason Isbell and many others. Their backgrounds are so deep and they're into so much music, there was no reference I could make they would not know and respond to in a heartbeat."
Similarly, in the Nashville tradition, Isaak also did more co-writing than usual, including working with some of the town's talented songwriters. Before long, Isaak fell in love with the tremendous musical energy of Nashville. "It's Music City – not just country city," Isaak says.  "At first you think of all the classic country artists, at least I do, but then you realize how many great records Roy Orbison, Elvis Presley and the Everly Brothers made there too. Great Rock & Roll came out of Nashville and great Soul music too. I think I bumped into more musicians in Nashville of every kind than anyplace else ever, and that gives you the feeling that music is alive and well.  In Nashville, people are still excited to be playing and making records, as they should be. Literally, my cab driver was a drummer. The guy who sold me a shirt at Macy's was a singer-songwriter. The guy at the health food store was a bass player. And I went to breakfast one morning, and saw Robert Plant. Everywhere you look is another potential bandmate."
Yet for all this exciting collaboration, First Comes The Night is very much a great Chris Isaak album that features him at his best. For all the firsts, there's a strong through-line that continues from Isaak's earlier triumphs like Silvertone (1985), Chris Isaak (1986), Heart Shaped World (1989), San Francisco Days (1993), Forever Blue (1995) and Always Got Tonight (2002).  "I guess you can make a drink with many ingredients, but if one is very strong, that's what you taste," says Isaak with a laugh. "For better or worse, I have a tendency to dominate because I have a big voice and some twisted ideas."
For Isaak continuing to write and record is one of his best and least twisted ideas.
"People who love music still get excited for a great new song or a performance that connects," he explains. "Making this album wasn't a contractual obligation – it was a thrill and a privilege to be making music with so many great people. I know the business is tough and some people say it's not a time to make records now, but I'm hooked. I love music so much. I don't think, "I'm going to sell 40 million records." I think, "How I'm going to make a hell of a record even if it's for 40 people who just listen to it a million times. I think about it this way — I've worked my whole life and never missed a gig in 30 something years. I want to do this, and for me, the thrill is not gone."
In part because of his new position on The X Factor Australia, Isaak finds himself thinking back to his own path to stardom and the musicians who made that journey more meaningful. "When you're 20, you just want to be in a band to make it," says Isaak. "All these years later, I've never missed a tour or a date. And only now in the past ten years, I've realized the real prize isn't how much money you make or the gold records. The real prize is the people you work with. That sounds like a Hallmark card, and that might sound crazy to a 20 year old who just wants to get famous, but it ends up being true. I've seen tons of bands I know who make tons of money and they're very unhappy people who don't have a friend in the world when they're on the road. I've always gone out on the road with people who I love and respect as musicians and as people. I don't want to be onstage with anyone who I don't like. I'm not that good an actor, and I have the movies to prove it. I feel lucky to play with my band. You'd think we'd be blasé by now, but the guys are excited to have a new record. We love playing together and we're still trying to get it right."